Field service organizations are responsible for prioritizing and executing a multitude of daily, weekly and monthly tasks while trying to meet or exceed customer expectations. SERVTRAC® Call Management provides the tools necessary to improve service execution, increase customer satisfaction and streamline activities such as:
Responding to emergency break/fix calls
Meeting requirements of Service Level Agreements
Managing planned preventative maintenance calls
Managing quoted service and equipment installation jobs
Scheduling and Dispatch features include:
Call Administration
Easily track service orders from receipt through completion with quick access to call status throughout the entire cycle. Call Administration provides the dispatcher with customer specific information needed to respond to each request for service while call escalation rules help monitor call status and ensure SLA commitments. SERVTRAC® can automatically recommend the best technician for the job using intuitive logic that considers technician qualifications, availability and current geographic location.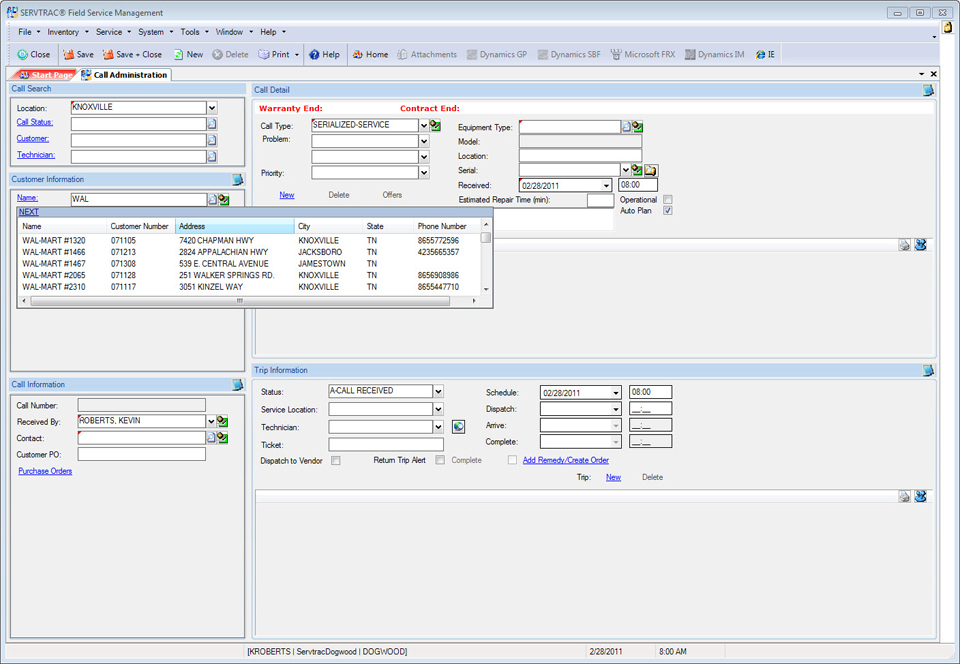 Call Administration – Adding a service request
Customers search options include Name, Store Number, Address, Telephone
Provides immediate snapshot of customer's status, including: history, other open calls, credit limit and AR balance with drilldown capability
Search grids throughout the system can be re–sorted by clicking on the column heading
Call Administration – Customer Information
Alert memos provide an unlimited amount of space to store important information about the customer, technician, call, contract, etc. and can be viewed throughout the system
Alert memos can be in the following formats: Pop Up, Email, or Report Format
Alert memos also support attachments. Attach pictures, schematics, legal documents, and more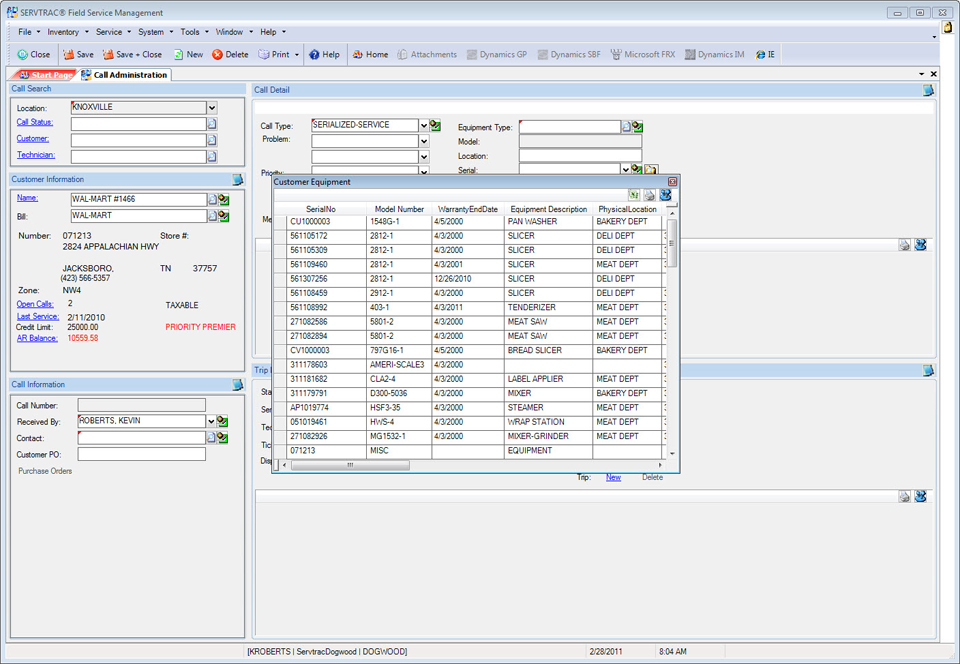 Call Administration – Customer Equipment
Customizable equipment grid can be displayed to allow you to select equipment for service call
Select from customer contact list or record name of caller
Will prompt you if PO is required for this customer
Optionally record an expected date/time range for service to be performed
Call Boards & Call Search
Multiple call boards throughout the application provide a graphical view of calls by technician, vendor (third party service providers) or customer, and organize call activities by day, week, or month. Non-service activities such as lunch break, personal time, sick time and vacation are included to show the dispatcher a clear view of technician availability. Real-time integration between technician mobile devices and the back office keeps the call boards and schedules up-to-date.
Managing daily schedules is easy with common features such as drag and drop, one click call assignment, status updates and drilldown capabilities. User configurable color-coding and a wide range of other settings allowing customizations for specific needs.
Call Search provides robust search features that help the dispatcher find, view and update open calls quickly. These updates communicate immediately to technicians in the field, adding speed and efficiency to all levels of the process. Call Search also provides the same variety of search filters for historical calls allowing the dispatcher to find and view call history quickly and easily.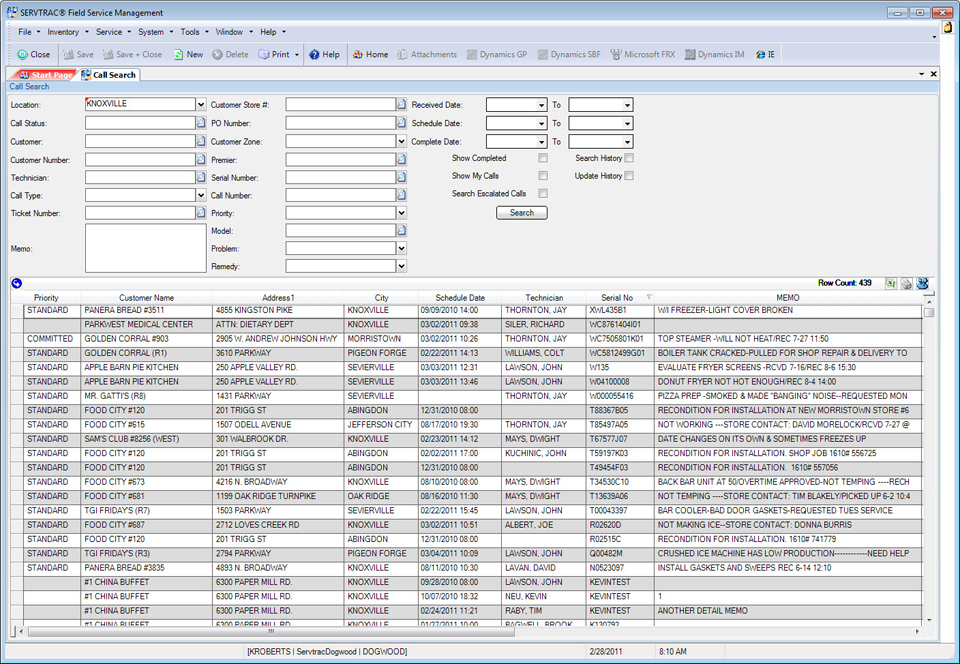 Call Search – Enables users to build a customized view of open and historical service calls using the following features:
Dispatchers and other system users may configure the customizable grid to suit their needs
Option to exclude or include completed calls
Option to show only calls logged by the user
Option to show only calls escalated by the system
Option to show only calls considered callbacks
Call search may be done by customer, technician, or any other field shown on this screen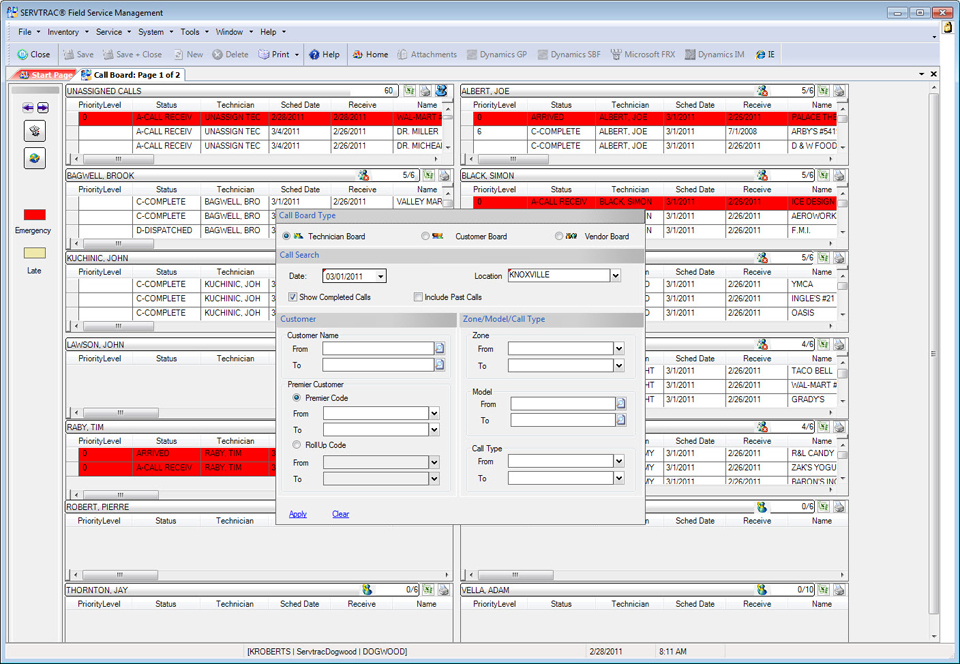 Call Boards – Allow for creation and sorting by the following critical parameters:
Technician
Customer
Vendor (3rd party service providers)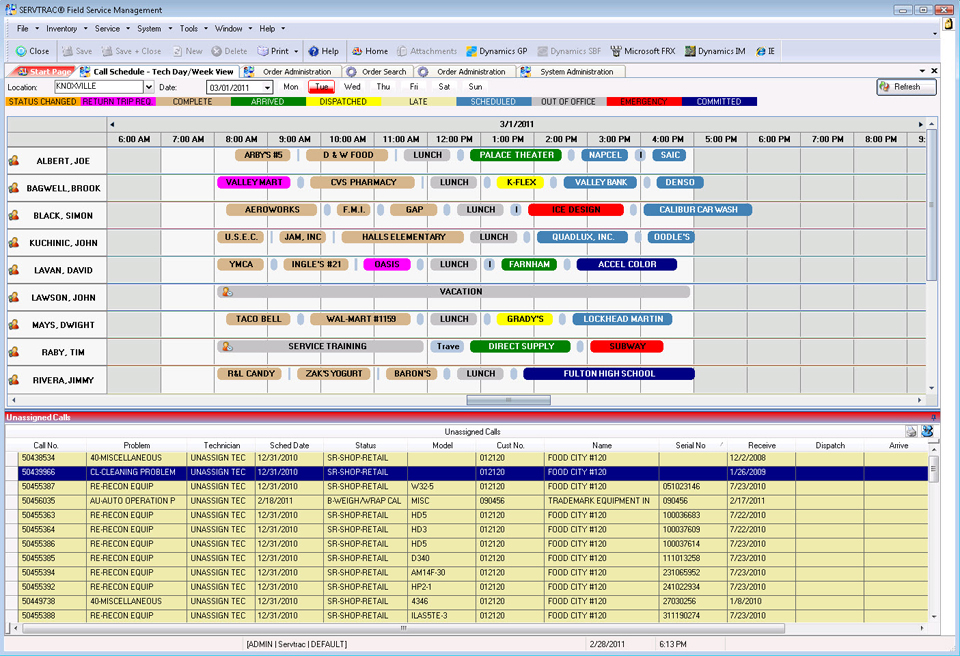 Call Schedule Day/Week View – Performs many functions for the fast–paced call center:
Calls for a the day are displayed in a colorful easy to use interactive screen
Customizable color coding allows certain calls to be highlighted to provide a meaningful graphical view of the status of calls
In addition to drag and drop functionality, the dispatcher can right click any call to quickly un-assign or re-assigns calls
Provides real–time updates with time stamping when the call is received, scheduled, dispatched, technician arrives, and call completed.
Monitor technician status and location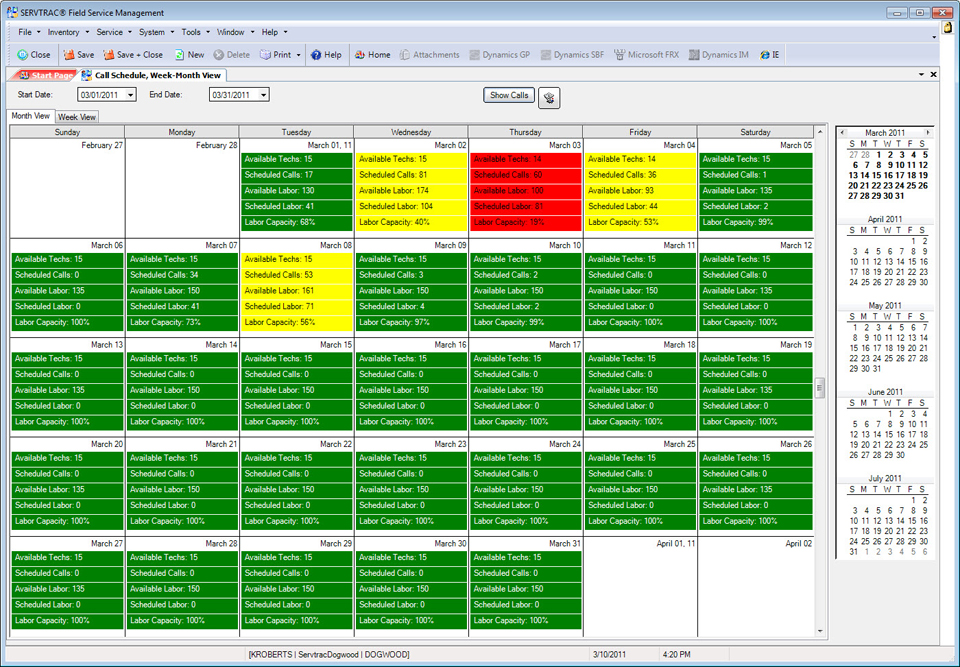 Call Schedule Week/Month View – Provides capacity planning with the following capabilities:
Generates forecast of the upcoming workload
Color coding aids in workload distribution for week or by month:

GREEN – UNDERBOOKED – proceed to schedule calls
YELLOW – BOOKED – approaching 100% of capacity
RED – OVERBOOKED – STOP

Call summary data may be viewed by week or by month and displays the following data:

Available technicians
Scheduled Calls
Available Labor
Scheduled Labor
Labor Capacity %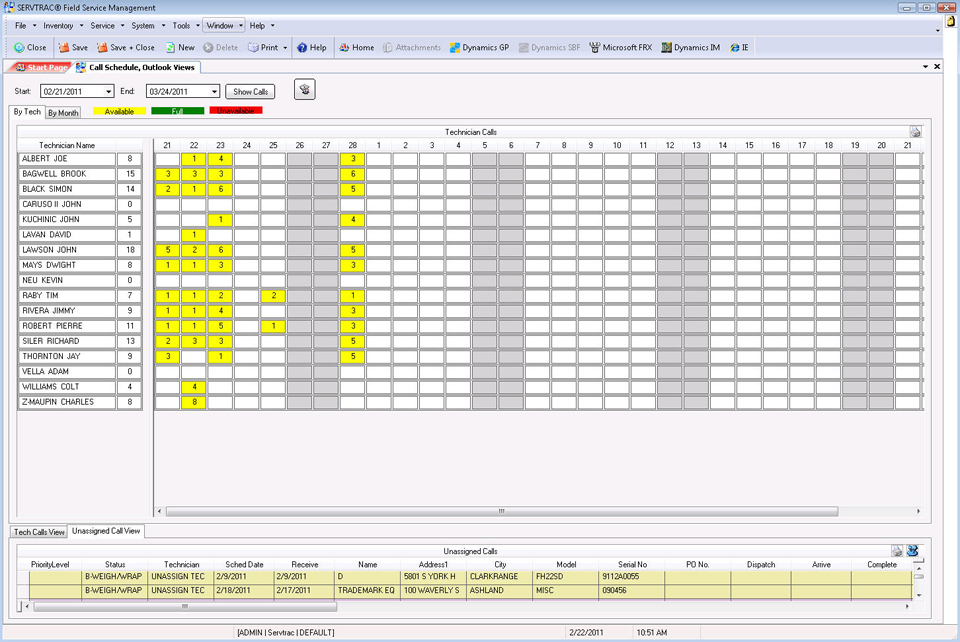 Call Schedule Outlook View – Provides interactive scheduling and capacity planning with the following capabilities:
Generates forecast of the upcoming work load
Displays total number of calls by Technician or by Month in a chart format
Useful for scheduling PM inspections and other non–emergency service requests
Calls may be moved to another day or another technician with drag and drop functionality
Color coding aids in workload distribution for technician or month:

GREEN – UNDERBOOKED proceed to schedule calls
YELLOW – BOOKED – approaching 100% capacity
RED – OVERBOOKED – STOP
Call Mapping & GPS Service
Call Mapping provides an option to integrate third party GPS service with SERVTRAC® to increase the efficiency of the scheduling process. A geographic view of the service area(s) and service vehicles includes real-time updates on technician locations. The option to overlay the map with assigned and unassigned service calls and specific customer locations provides the tools needed to optimize technician routes and schedules.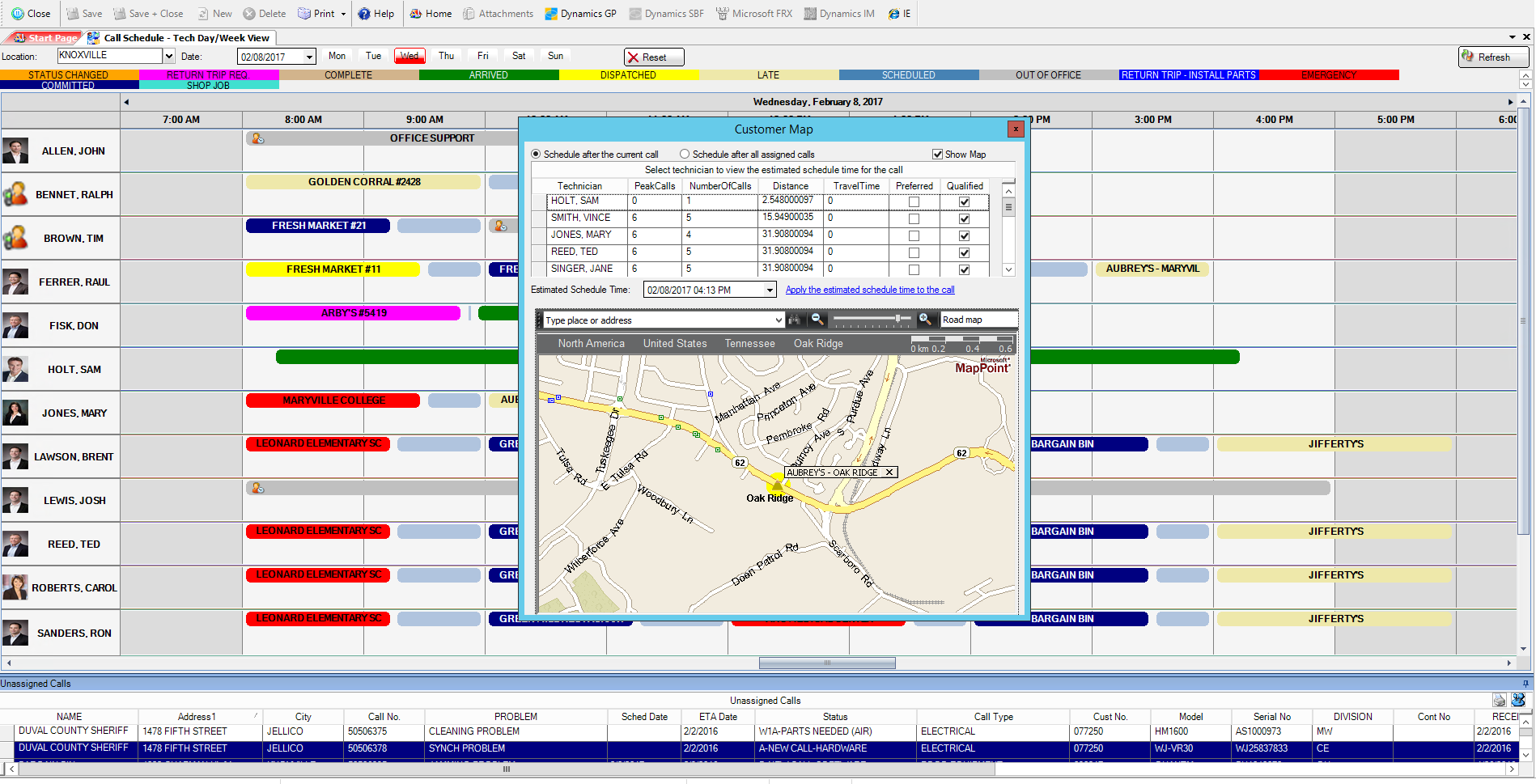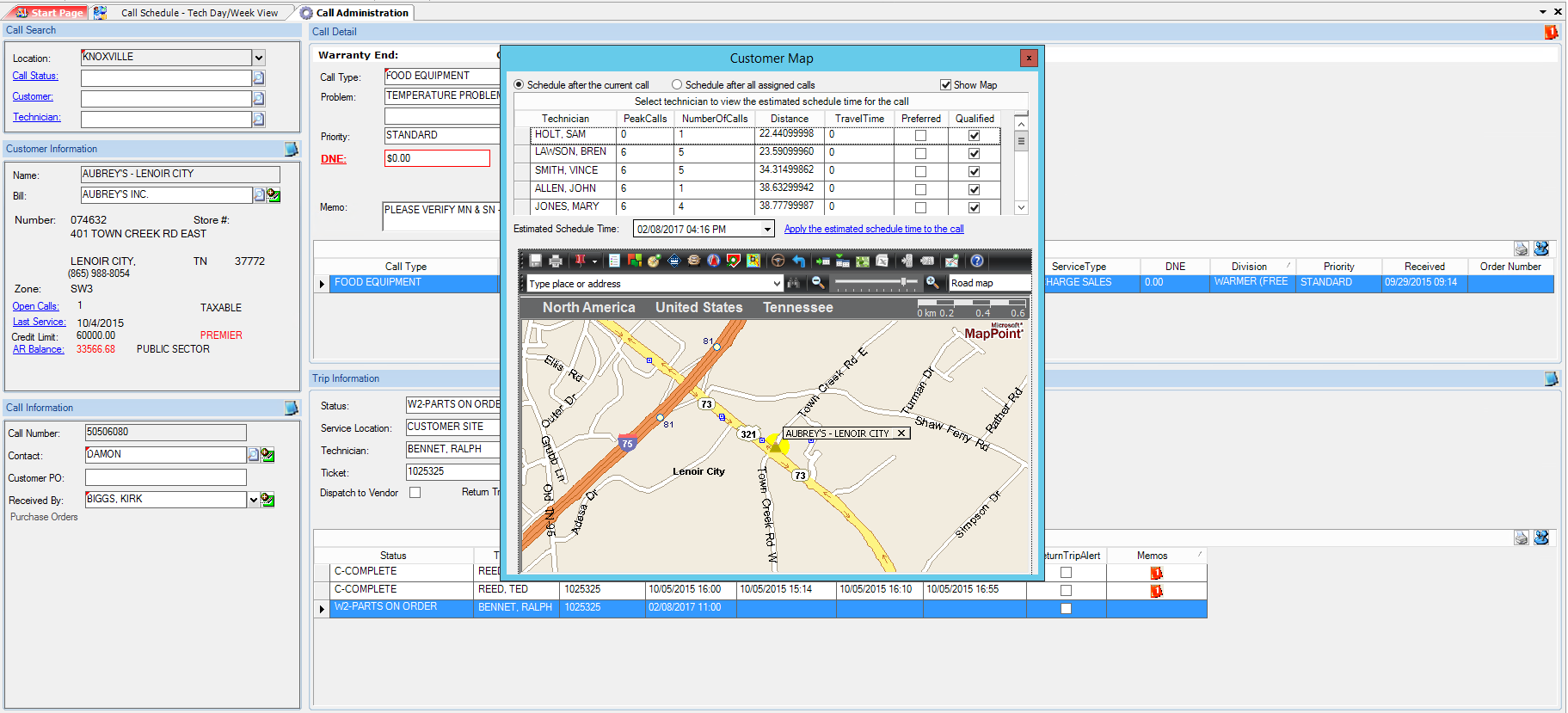 Call Planner
Call Planner is an advanced scheduling tool that automates schedule preparation based on the pre-defined dispatch business rules of the service location(s). As service history accumulates, the Call Planner algorithms are updated providing ongoing optimization of the scheduling and dispatch processes. Open call priority, customer SLA's, technician skill set and current location are used to determine the optimized route for the day, however, the dispatcher is able to adjust the suggested routes before committing them to the schedule.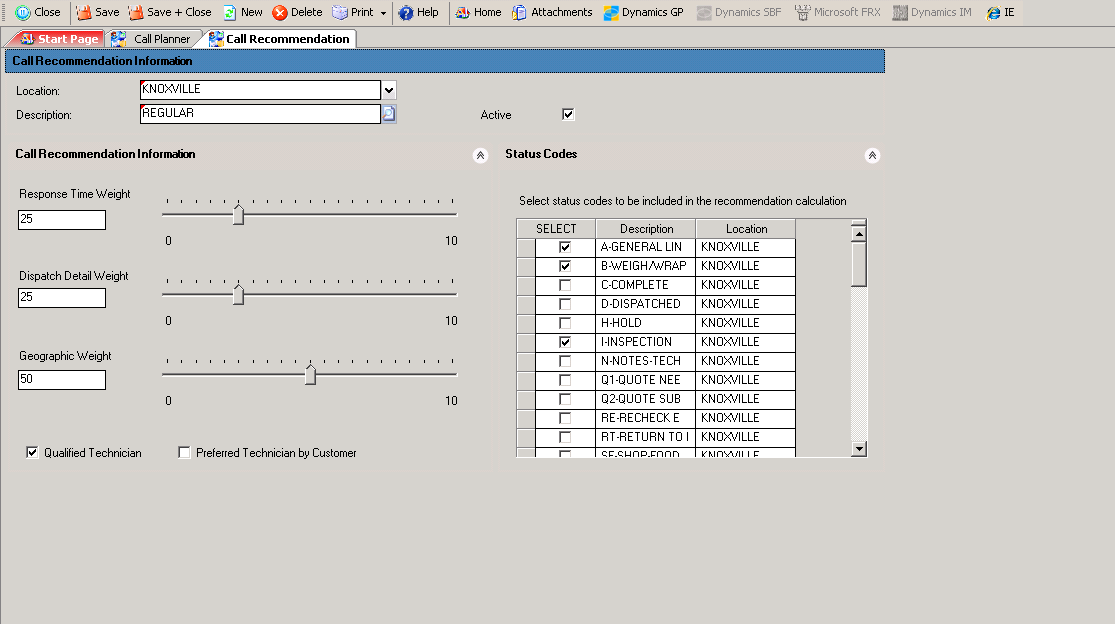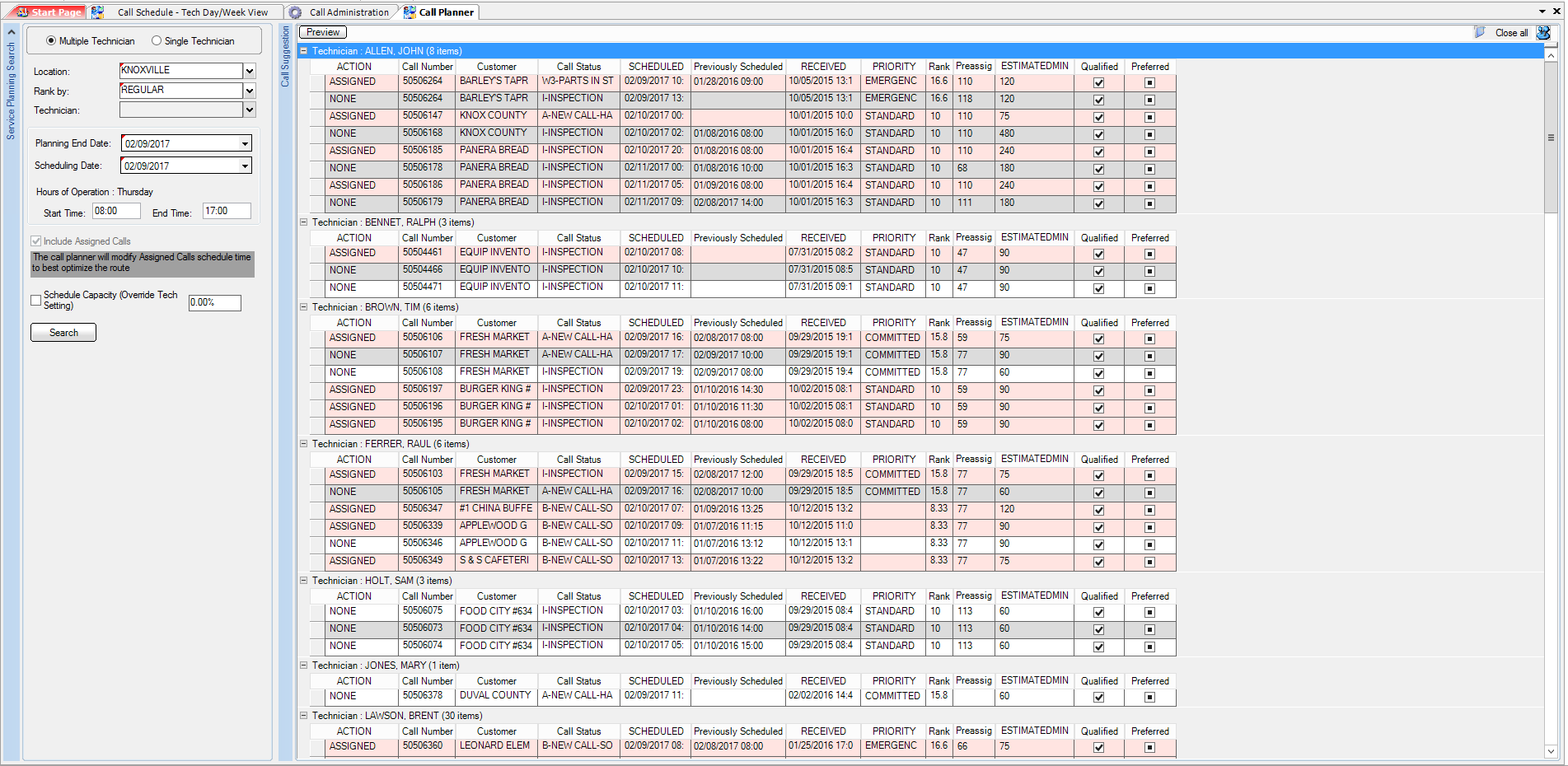 Call Recommendation
Call Recommendation is another scheduling tool where algorithms consider the technician's current location and skill set to suggest a list of technicians closest to the call with the correct skills to complete the job. This feature is accessible from within Call Administration and on interactive call boards and schedules.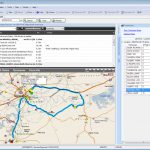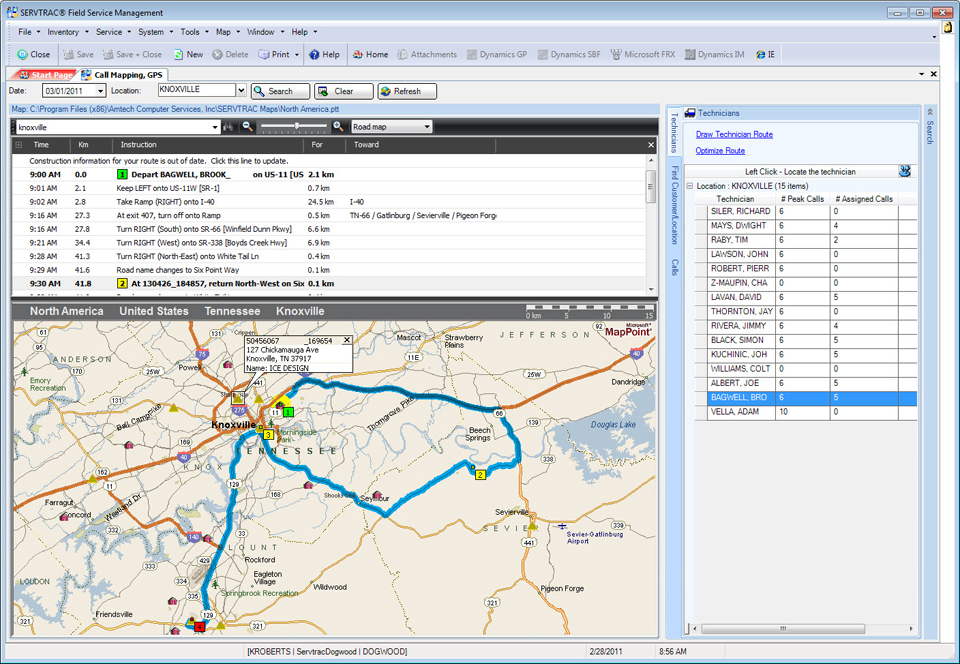 Call Mapping
– Increases efficiency by providing visual global positioning satellite (GPS) locations of your service area, service vehicles, customer location and open service calls:
GPS board combines call information, technicians' current location and uses Microsoft® MapPoint program to show you a view of dispatch calls.
"Plot Unassigned Calls" for a view of the technicians and their proximity to unassigned calls
Find the nearest qualified technician to a pending call with one click
Use the GPS board to draw a technician route for the day including driving directions and actual travel time
The automated vehicle location (AVL) module uses (GPS) technology to track the movements of each service truck, and provide "best route" advice to technicians in the field maximizing travel time.
The SERVTRAC® Mobile application is a key component of SERVTRAC® that delivers significant increases to productivity at all levels of the business. SERVTRAC® Mobile provides technicians real-time access to vital information over a digital network, allowing them to perform service work correctly and efficiently while improving customer satisfaction and first time fix rates.