SERVTRAC® Inventory Management offers a scalable solution that can support multiple locations. Every part or serialized item is tracked across single and multi-warehouse environments. Purchasing operations align with product management to provide better visibility between supply and activity to users across departments.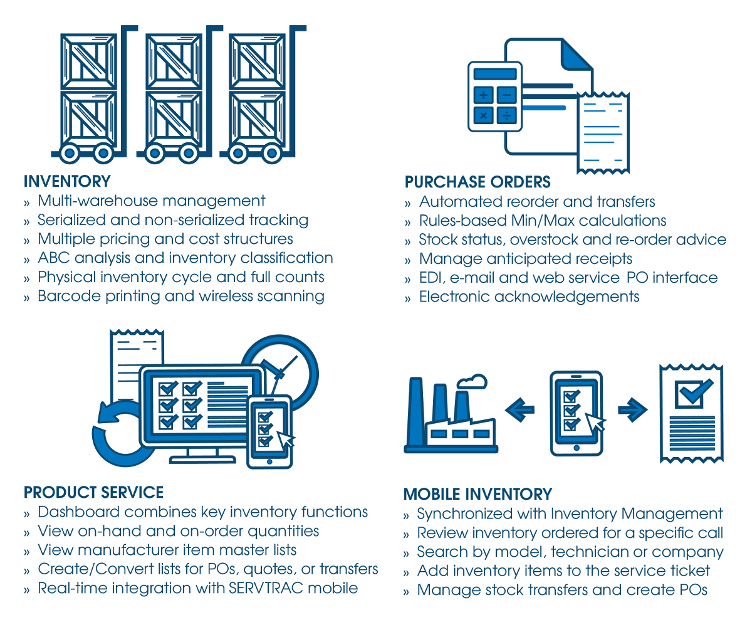 Inventory
Inventory, Purchase Orders, Product Service and Mobile Inventory are all part of the SERVTRAC® Inventory Management solution. Integration between each module encourages a process that flows logically from end-to-end.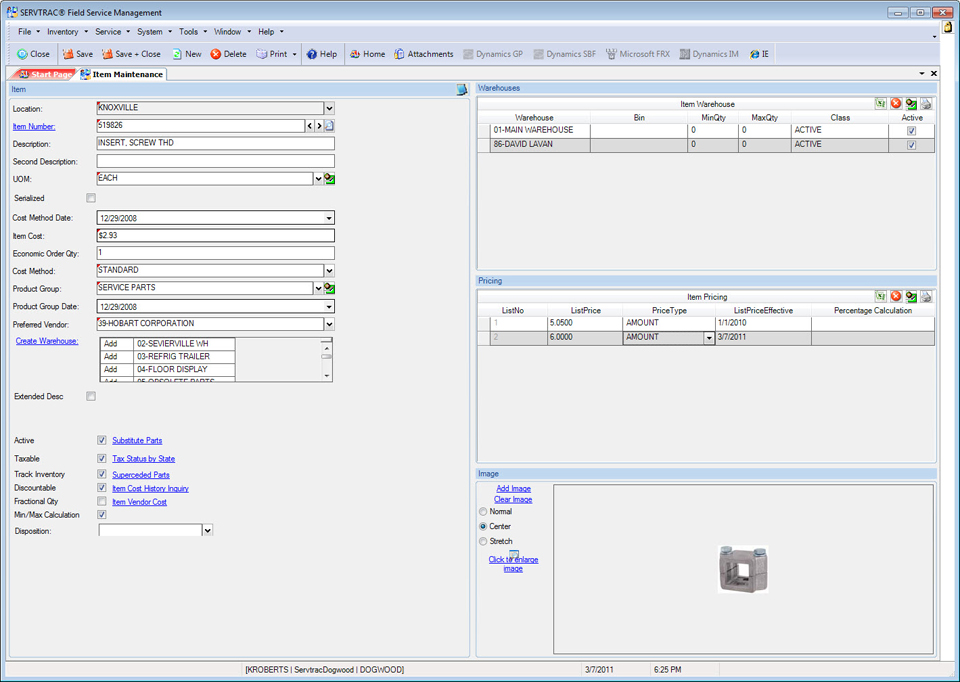 Item Maintenance
Maintains information on serialized equipment, service parts, warehouses and pricing
Stores image of item as well as barcode printing which simplifies physical count process via wireless scanning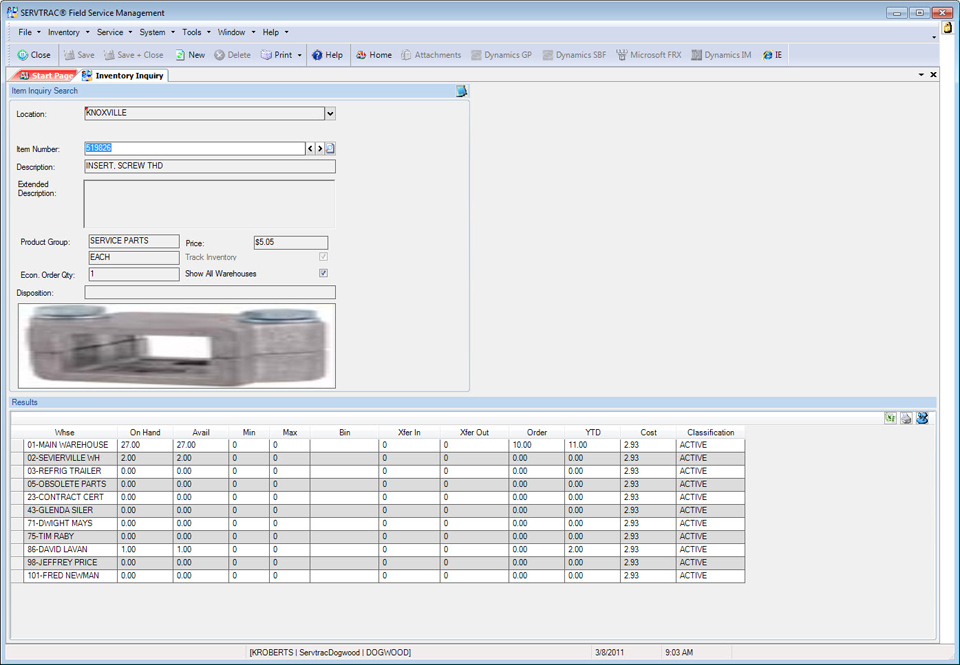 Inventory Inquiry
Provides information on stocking levels and current quantities for each warehouse that stocks this item
Quantity on hand, available, min/max levels, warehouse and bin location are all shown
On order quantities are linked to purchase orders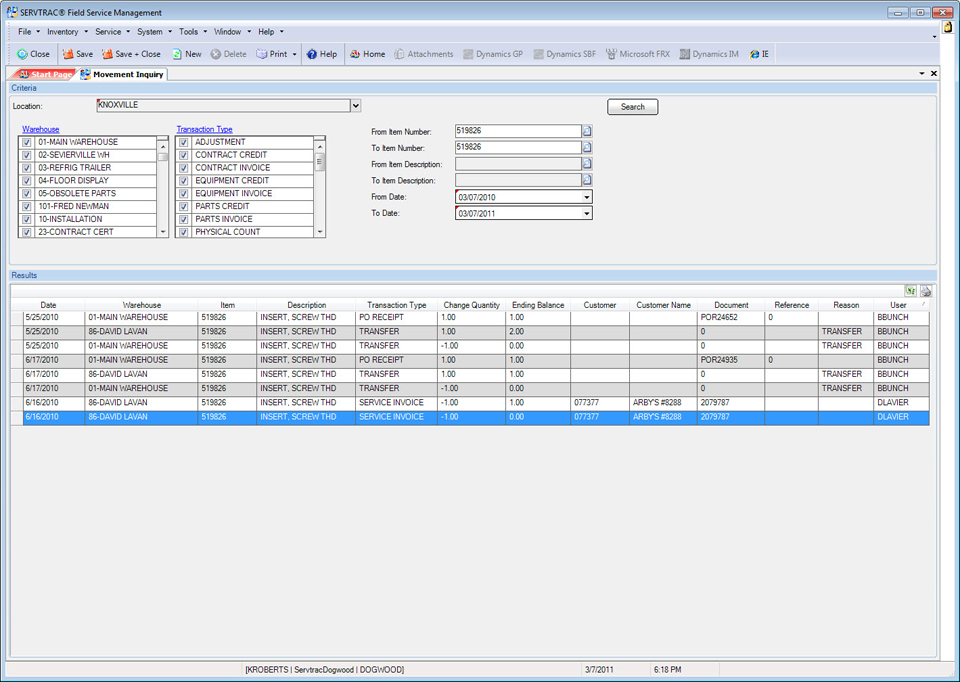 Movement Inquiry
Displays all movement associated with this item such as receipts, transfers, adjustments, purchase orders, returns, physical count and product re-pricing
In addition all Order related movements are available (Sales and Credits for Service, Equipment, Parts and Contracts)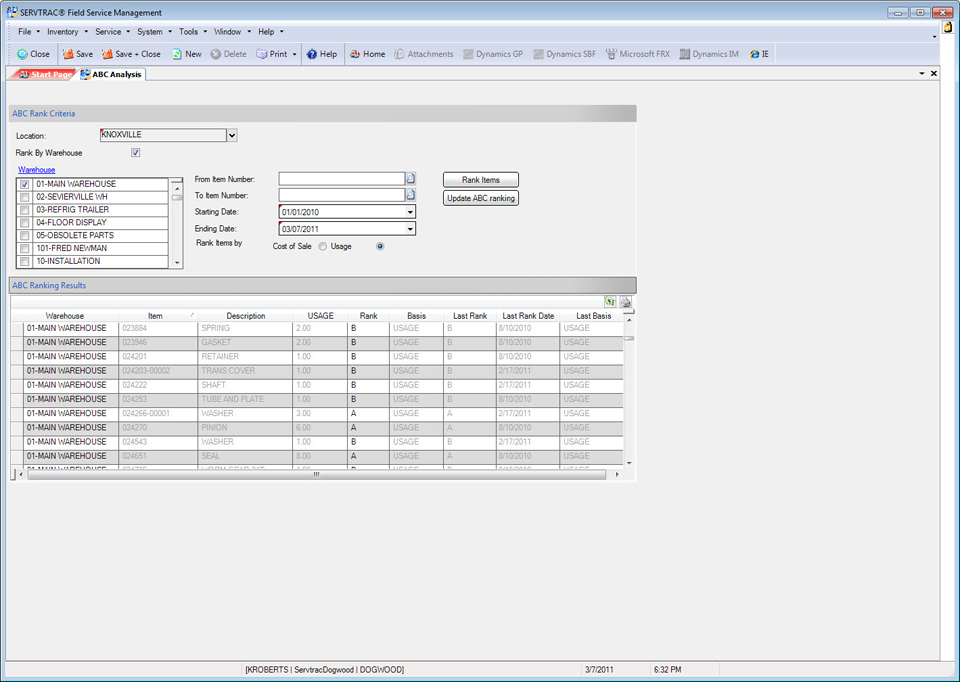 ABC Analysis – Inventory Reduction Strategies
Rules based calculation can be based on item cost or item usage
Analyze and control inventory investment and inventory turns
ABC classifications can be used to design cycle count schemes
ABC strategies allow managers to devote resources where it has the greatest impact
Purchase Orders
Create, track, receive and invoice parts orders within the SERVTRAC® Purchase Order modules. Multiple tools exist to increase efficiency, streamline supply management and drive profitability.
Organizations have access to utilities such as Min/Max Calculation and Re-Order Advice, which help simplify stock replenishment by using historical movement data to set minimum and maximum levels on active parts and advise users when re-order thresholds have been reached.
Real-time integration from SERVTRAC® mobile drives parts requests from technicians directly into Product Service. As a result, organizations can enact just-in-time inventory management for parts needed to complete service calls.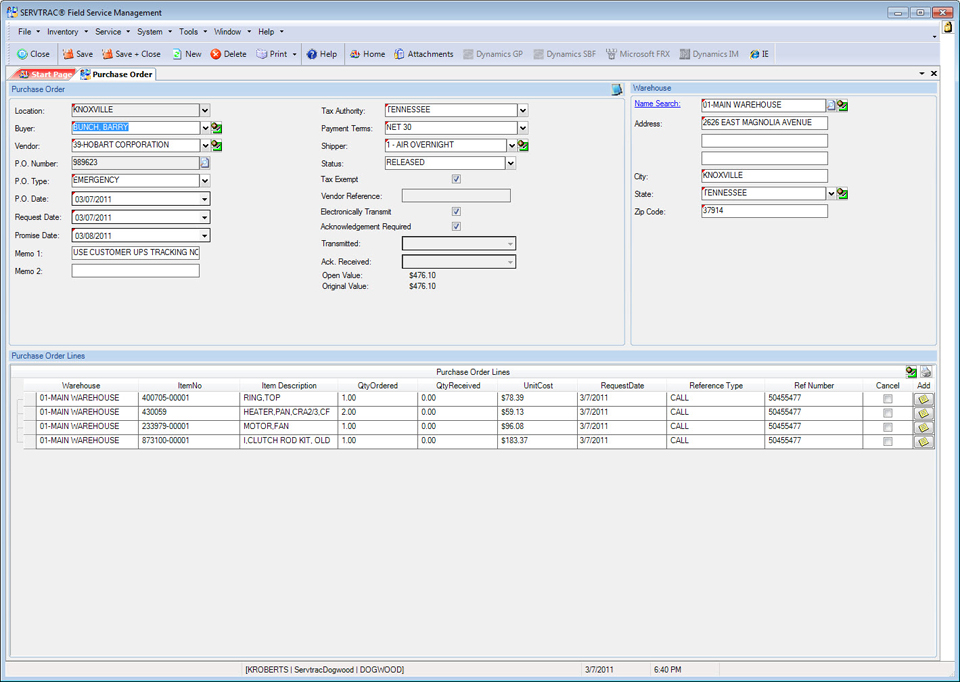 Purchase Orders – Linked directly to orders
Purchase orders can link to service work orders to facilitate timely follow up and efficient billing
Purchase orders can link to equipment quotes/orders to automatically update model, serial number, install date to establish equipment record for customer or store
Purchase orders can link to parts quotes/orders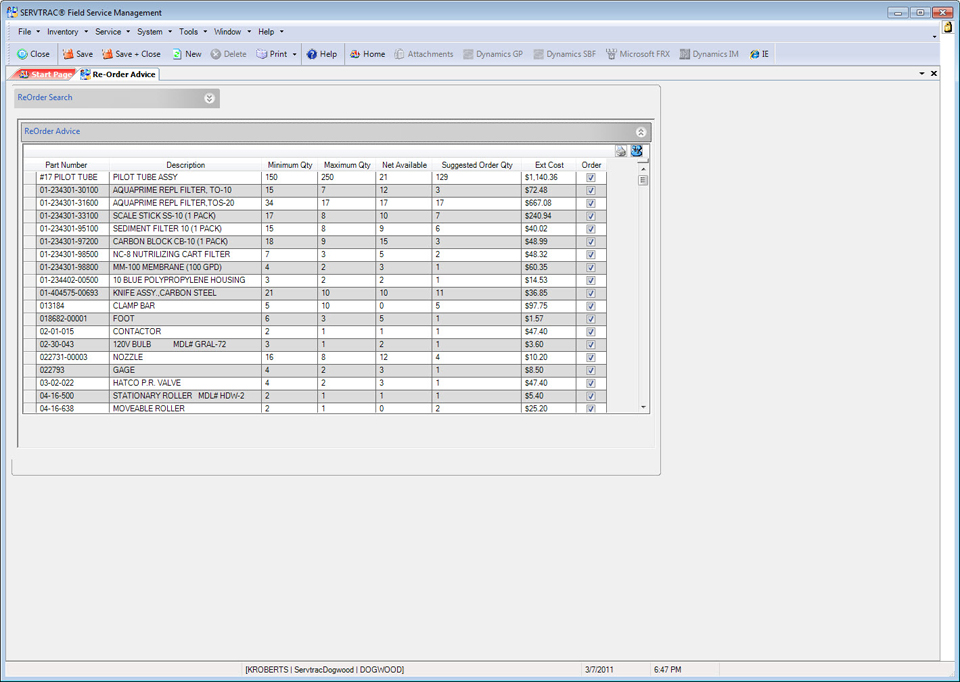 Reorder Advice
Allows you to request a report for one or more warehouses, for a range or all items in the warehouse or for a range of one or more product groups
Results of reorder advice can be used to create a PO, create an immediate transfer, or a request for transfer
Reorder options allow you to reorder to the minimum or maximum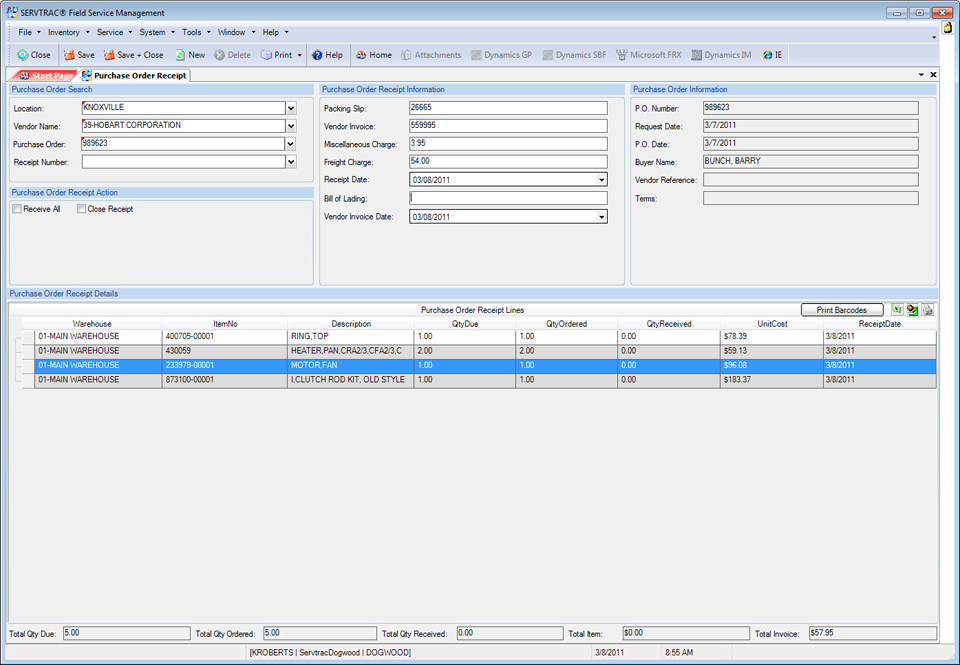 Purchase Order Delivery
Printed
E-mailed
Processed though a web-service link
Product Service
Product Service combines multiple key inventory processes into one dashboard, streamlining processes and giving users the ability to accomplish daily tasks from one screen.
Access to manufacturer parts lists, local warehouses, and technician vehicle warehouses provides the ability to source parts, view stock levels and more accurately project repair time.
Parts lists received from technicians in the field are either filled from on hand stock or converted into purchase orders. Lists are automatically linked to a scheduled call, purchase order, stock transfer or sales order to ensure items are allocated correctly once received.